Fabric Forest offers thoughtful interior design products for a sustainable future. We have used a new and innovative technique to develop a renewable textile material from Swedish trees, which gives us the opportunity to transform the entire textile industry. Together we can create a better environment for future generations.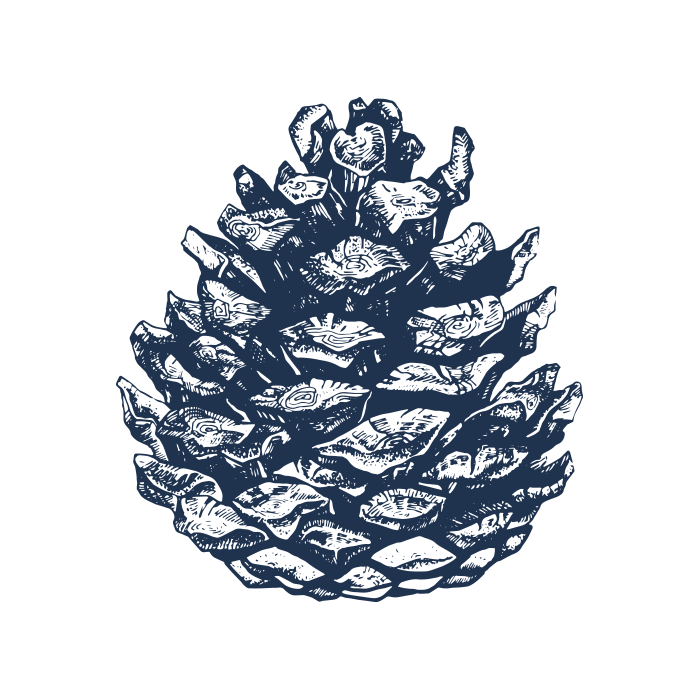 Sustainable solutions for the future
Fabric Forest is committed to developing fibres and textiles that are as environmentally friendly as possible, to offer the market a sustainable interior design concept. We see it as our responsibility not only to ensure that we have the smallest possible environmental impact, but also to find better and more sustainable solutions for our customers and for the future. Therefore, our textile material is made only from paper fibres from Swedish forests, and our manufacturing takes place locally.
In collaboration with like-minded designers and manufacturers, we use this renewable material to create interior design products that truly do justice to the concept of sustainability. There are many products that can use thread and yarn made from Swedish forestry products, and we are actively seeking new ways to use our fabrics – both today and tomorrow.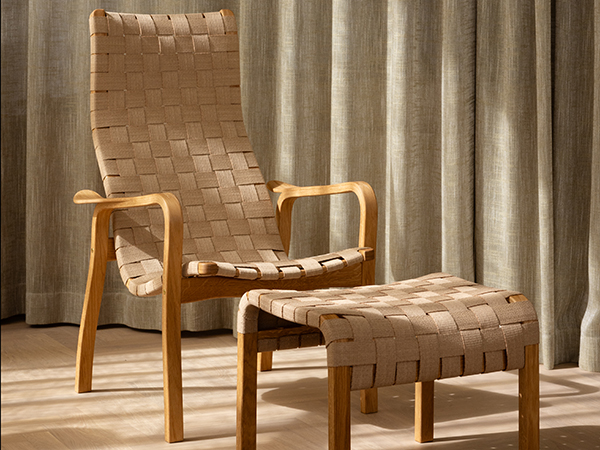 FABRIC FOREST AND SWEDESE COLLABORATION – PRIMO CHAIR WITH SADDLE GIRTH IN PAPER YARN
We are excited to introduce a unique collaboration with the furniture company Swedese. Together, we are launching the Primo chair with saddle girth made from 100% paper yarn from Fabric Forest. This innovative collaboration means a relaunch of the timeless design classic from 1980, designed by Yngve Ekström. Crafted from layer-glued, molded veneer in oak or beech, Primo has a sustainable design that aligns perfectly with Fabric Forest's design philosophy.
We help you make your own world more beautiful while you take responsibility for the world around you.

What is Fabric Forest?
Fabric Forest (a part of Svensk Konstsilke AB (SKS)) is a Scandinavian company that has developed a more environmentally friendly way to produce yarn, thread and fabric from paper from Scandinavian trees.
What's so great about the fabric that Fabric Forest produces?
Fabric Forest textiles are produced using, local, Scandinavian raw materials and have a far lower impact on the environment than traditional fibers and are comparable or better than most other alternative fibers. Better for people, better for the planet.
What led to the development of this fabric?
SKS, Forest Fabric's parent company, has been producing yarns and textiles from forest materials since its founding over 100 years ago. Our journey of innovation continues, as does our goal of creating a better environment for future generations.
Where does the raw material for this fabric come from?
Fabric Forest textiles are made from thread and yarn produced from paper of Scandinavian trees. The trees are harvested from sustainable Swedish forests, watered with natural rainfall, and constitute an infinite source of carbon-neutral raw material.
How is this fabric produced?
We use a proprietary process to convert raw paper into yarn and thread.
Does the production of the fabric that Fabric Forest produces create harmful by-products?
No chemicals are used in the cultivation of the raw materials in our textiles, and the processing of our fabric uses far less chemicals than conventional textiles and fibers and uses the approximately the same or lower amounts of chemicals as other alternative fabrics.
Is the fabric naturally biodegradable?
Yes, our fabric can be composted and is biodegradable.
How does this fabric compare to traditional cotton fabric environmentally?
The production of traditional cotton is very resource intense. In addition to huge amounts of land, on average, it takes almost 10,000 liters of water to produce one kilogram of cotton fabric and its production contaminates with insecticides and pesticides, damaging both the surrounding earth and the people who live on it. Fabric Forest's textiles use far less resources, release far less pollutants, and actually contribute to lowering global levels of CO2.
To Eco cotton?
Eco Cotton, while a vastly better choice than traditional cotton with regard to chemicals, insecticides, and the like, uses even more land than traditional cotton and also uses large amounts of water. The raw materials in Fabric Forest textiles are grown using only natural rainfall, use no chemicals to produce, and waste less land.
What advantages does Fabric Forest's fabric have over other cellulose fiber-based fabrics?
Fabric Forest applauds the ongoing developments of other alternative fibers (including a range of tree-based ones), and view our work as part of a larger effort. Having said that, while there are certainly other fabrics that exhibit equally good or better specific qualities, our approach has one major advantage over all the others – we use local, sustainable, renewable Swedish raw materials. Nothing else. This means that we do not contribute to deforestation and avoid the negative environmental impact of transport.
What usage areas does Fabric Forest's fabric have?
We are currently focused on the areas of furnishing and interior design. We are, however, open to all areas where our fabrics might be used, from fashion to fillings.
What does it feel and look like?
The fabric we are currently producing is comparable to a mid to heavy weight weave canvas or a strong twill weave fabric like denim or linen. As we further develop our technology, new qualities and types will be available.
Can Fabric Forest's fabric be washed and dried like normal fabrics?
Yes, washed in temperatures up to 60 degrees C  and tumble dried at 60 degrees C (or even higher temperatures). Our fabric does shrink slightly originally (like all natural fibers), but is stable after that.
How was your environmental impact comparison carried out?
Our rating system is based on data compiled by IVL Svenska Miljöinstitutet AB, an independent research facility. IVL carried out a Life Cycle Analysis (LCA) measuring the CO2 impact, water usage, and chemicals involved in the production of various types of fabric. Our ratings are a summary and compilation of these findings. The full report is available here.
Doesn't Fabric Forest's fabric contribute to reducing forests?
Quite the contrary. Since we only use materials from renewable and sustainable forests, there is no deforestation effect. In addition, our leading suppliers plant more trees than they harvest, so we are actually increasing forestland, not the opposite.
Does Fabric Forest provide fabric to other manufacturers?
We are always open to collaborations with other forward-thinking manufacturers and more than willing to discuss joint projects or products.